December 4th 2017 Civic meeting was very artistic! We had a great fundraiser Pallet Paint Night! The Civic raised money to support the Scholarship Fund!
Thank you to all those that took part in this fun night.
February 5th: Town of Babylon councilman, and former President Terence McSweeney swore in the New Parkdale Civic Board. From Left to right: VP Anthony Rambazis, Pres. Danielle Leacock, Treasurer, Lizette Marchese, Secretary Helen Rambazis, Committee Chairs Melissa Sharoh and Christopher Silliman.
Moving Forward By Giving Back
November 5th Councelman Terence McSweeney past President of the Parkdale Civic will be addressing the community! Come down and share oncerns or issues.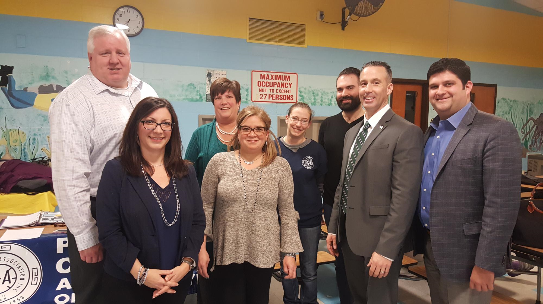 Town of Babylon Councilmen Terence McSweeney and Anthony Manetta with the Parkdale Civic Board.
Narcan Training in progress at the February meeting.
We are looking for teen volunteers to help with a community PSA about Stop Signs. Please email parkdalecivictown@gmail.com for more information!
Thank you to past President John Schneidawin for a job well done!